Large open areas and long borders are often associated with security sensitive sites. Customer requirements to security system may vary due to different intrusion threats, complicated landscape environments: mountains, forests, rivers, absence of any infrastructure. Security system based on precise engineering and real experience is an ideal solution to the task in hand.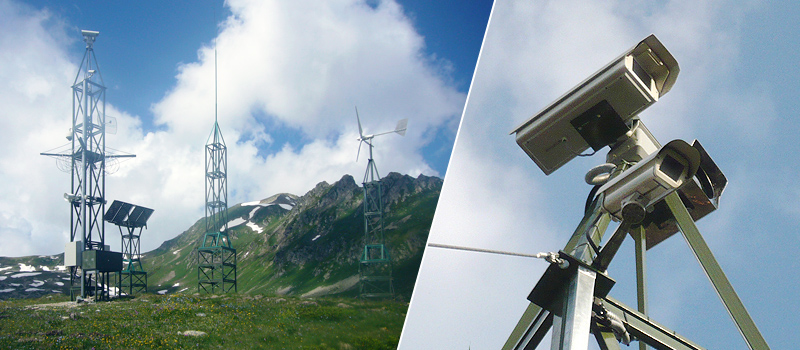 Stilsoft has developed a number of systems to meet these challenges:
Stilsoft Perimeter Video Surveillance System
Stilsoft Perimeter-M Standalone Portable Video Surveillance System
Informer-M System
Stilsoft Observer Standalone Video Surveillance and Thermal Imaging System
RadioBarrier Perimeter Security System
Stilsoft Centaur Standalone Mobile Video Surveillance and Thermal Imaging System
Unicom System
Efficient security system for wide open areas and borders require security sensors to detect intrusion attempts and video surveillance system to eliminate nuisance alarms. Remote location of a disturbance place prevents the security forces immediately response to the alarm. Time is always vital not to let the intruder penetrate into protected site. In this case video surveillance system becomes a key component of a proper security system.
There are several equipment types applied to detect intruders:
double position microwave security detectors;
infrared active and passive security detectors;
triboelectric security sensors for fenced sites;
radio detection and ranging stations;
movement detectors incorporated in video and thermal long-range cameras.
The following systems allow intruder detection and alarm confirmation:
fixed cameras with 50-100m detection zone (detection quality is not guaranteed with artificial illumination at night time);
hi-speed PTZ cameras with 400m detection zone – 200 m each side (detection quality for long distances is not guaranteed with artificial illumination at night time);
systems with long-range CCTV camera and thermal imaging camera with up to 3 km detection zone (efficient surveillance of longer areas is provided by several PTZ cameras. Long distances are quite rare – open areas do not usually exceed 3 km line of sight);
unmanned aerial vehicles (ensured detection with automatic and flight to the disturbance point).
Different detection ranges and site specific features require different video surveillance systems.
There are two major groups of tasks in hand: protection of wide open areas without any infrastructure such as fences, grid connection etc. and protection of long fenced boundaries and connection to the power network is available.
Wide open spaces without any infrastructure are common for state border areas, water storage dams, and open facilities of force and law enforcement agencies, firing grounds.
Combined application of standalone video surveillance systems and wireless security sensors provide efficient protection of such facilities.
Sensors detect disturbances and trigger activation of PTZ camera that captures the intruder image and allows security guards give a proper response.
The before mentioned tasks require independent power supply and wireless communication path. One type of renewable power source is not sufficient to ensure proper reliability. It can be achieved by application of several types of independent power supply units: wind generator, solar panels and petrol generator. Security sensors must have extremely low power consumption and ability to repeat the alarm to cover protected area within and beyond line of site.
Stilsoft solves the named tasks from the first group with proprietary systems: RadioBarrier, Stilsoft Observer, SDP-170 and SDP-172 radio detection and ranging stations.
Second group includes protection of long fenced perimeters or exclusion zones, e.g. roadways.
Such sites are common for national security and defense agencies, state borders, facilities of major enterprises, airports, sea ports, military communities.
Security systems for such sites are often associated with technological and engineering challenges – such as high capacity communication path with high speed up to several gigabits per second and long coverage area. Another challenge is to provide reliable power supply for security lightning. Such system should be robust, easily scalable and user friendly. The scope of the system should not only provide perimeter security and video surveillance but incorporate access control subsystem (e.g. access through remote entrance), two-way communication systems for security squads, loudspeaking alert system. The system should be operational in various environmental conditions, withstand high temperatures and be dust resistant.
Stilsoft Perimeter and Stilsoft Complex systems manufactured by Stilsoft represent an ideal solution to all mentioned challenges.
Stilsoft has vast experience in addressing such issues. Our systems are installed at hundreds facilities across Russia, CIS and in far-flung counties. Our permanent customers are Federal Security Service, State Boarder Service, State Reserves Agency, Federal Penitentiary Service, Ministry of Defense, Federal Protective Service, major oil and gas enterprises.